Ever wonder that you actually could use Offerslook platform for FREE, or even make money with us?
No kidding! With the launch of Offerslook Referral Program on our platform, what you need to do is only a few clicks and everything is simple and easy!
What is Offerslook Referral Program?
Offerslook Referral Program is a newly released program by Offerslook. The program allows you the opportunity to receive rewards based on revenue generated from a specific link that you share with your friends, while at the same time your referred friend using Offerslook will get generous discounts from Offerslook!
Everything is linked to your unique referral ID, ensuring you get credits for each and every referral you make.
Everybody wins!
How does it work?
1. Start by visiting the Refer a Friend page. From this page you can send an invite email to a friend, copy directly your referral link, or in just one click you can share your referral link via your Facebook and Twitter.
There is no limit to the number of friends you can refer.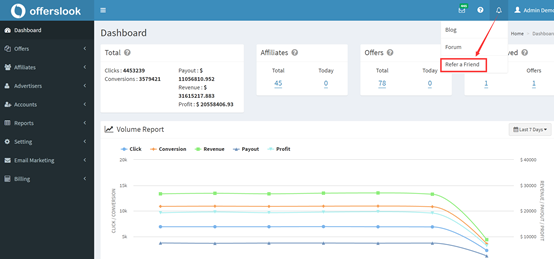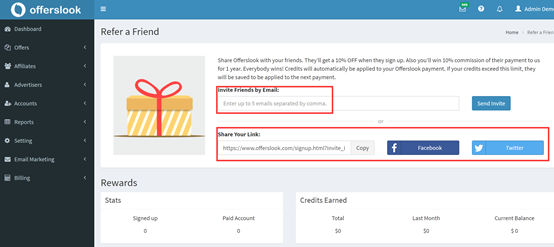 2. If a friend signs up for Offerslook using your referral link and starts to pay for us, you will then be paid based upon their payment to us for as long as 1 year.
Currently Offerslook enables your referred friends to get a 10% discount and you'll win 10% commission of their payment, though we might make possible changes in the future. Credits will automatically be applied to your Offerslook payment. If your credits exceed this limit, they will be saved to be applied to the next payment or you can even withdraw the cash.
Important Notice:
1. Currently the program is open to our PAYING clients and a selected number of partners only. If you are interested in becoming a referrer for us but are not our client, please contact us at: sales@offerslook.com.
2. We introduce programs as such in good faith and hence cannot guarantee payout on every account you refer due to fraud or nefarious scenarios, but we make a good faith effort to do so whenever possible. Please note that we may withhold awards when we believe our clients/partners are acting in bad faith.
3. Offerslook reserves the right to change the terms and comissions of the referral program at any time due to changing market conditions, risk of fraud, or other reasons.
For more details about Offerslook Referral Program, please don't hesitate to contact us at sales@offerslookk.com
Offerslook is a SaaS platform for performance marketing networks to build and manage their networks. Since debut, hundreds of ad networks/affiliate networks have used Offerslook to increase their network efficiency and ROI. We're dedicated to reducing the high technology cost in this industry and making ad network management a smarter job.