When it comes to digital marketing, people used to think about email marketing, social commerce or display advertising. However, as affiliate marketing develops and flourishes over these years, more and more marketers turn to start affiliate programs, making it one of the mainstream now.
The thrilling fact is, affiliate marketing generates 15% of the total digital media advertising revenue and affiliate programs account for 15%–30% of advertisers' sales revenue, according to an affiliate marketing report of 2020. With its steady growth showed, the affiliate marketing industry has become a hefty chunk of the big marketing pie.
Keep reading if you are interested in learning more about this emerging field and starting an affiliate program from the beginning.
CONTENT
What is Affiliate Program?
Benefits of Starting an Affiliate Program
How Does Affiliate Program Work?
How to Start an Affiliate Program?
Affiliate program, also called associate program, is a performance-based marketing form where marketers get paid by sending traffic to the merchant and accomplishing its targeted goal, such as make a purchase, submit a lead form, etc.
Take Amazon associates program as an example:
If you are a content creator, a publisher or a blogger, you can easily become an Amazon associate by advertising products from Amazon.com and placing the Amazon affiliate links on your site. When someone clicks your links and buys the products from Amazon, you will earn up to 10% in associate commissions.
From an affiliate marketing perspective, there are three indispensable parties in this system.
Advertiser: Also know as merchant, brand, seller, creator, etc. It could be either a startup or a big company as long as it has a product to market.
Affiliate: Also called publisher or partner. For example, a blogger, a website owner or a social media influencer. This is the party that owns massive audiences and traffics.
Customer: The driver of affiliate marketing with whom the final goal of advertisers could be achieved.
Affiliate Network
Having known that, you can now move on to understanding how affiliate marketing programs work – through the key technology of the affiliate system – affiliate link.
The affiliate link is a special link that contains the information of affiliates. Advertisers or networks are able to pinpoint the traffic that comes from which affiliate with affiliate links.
Now you can get to know the affiliate marketing system from the following flowchart: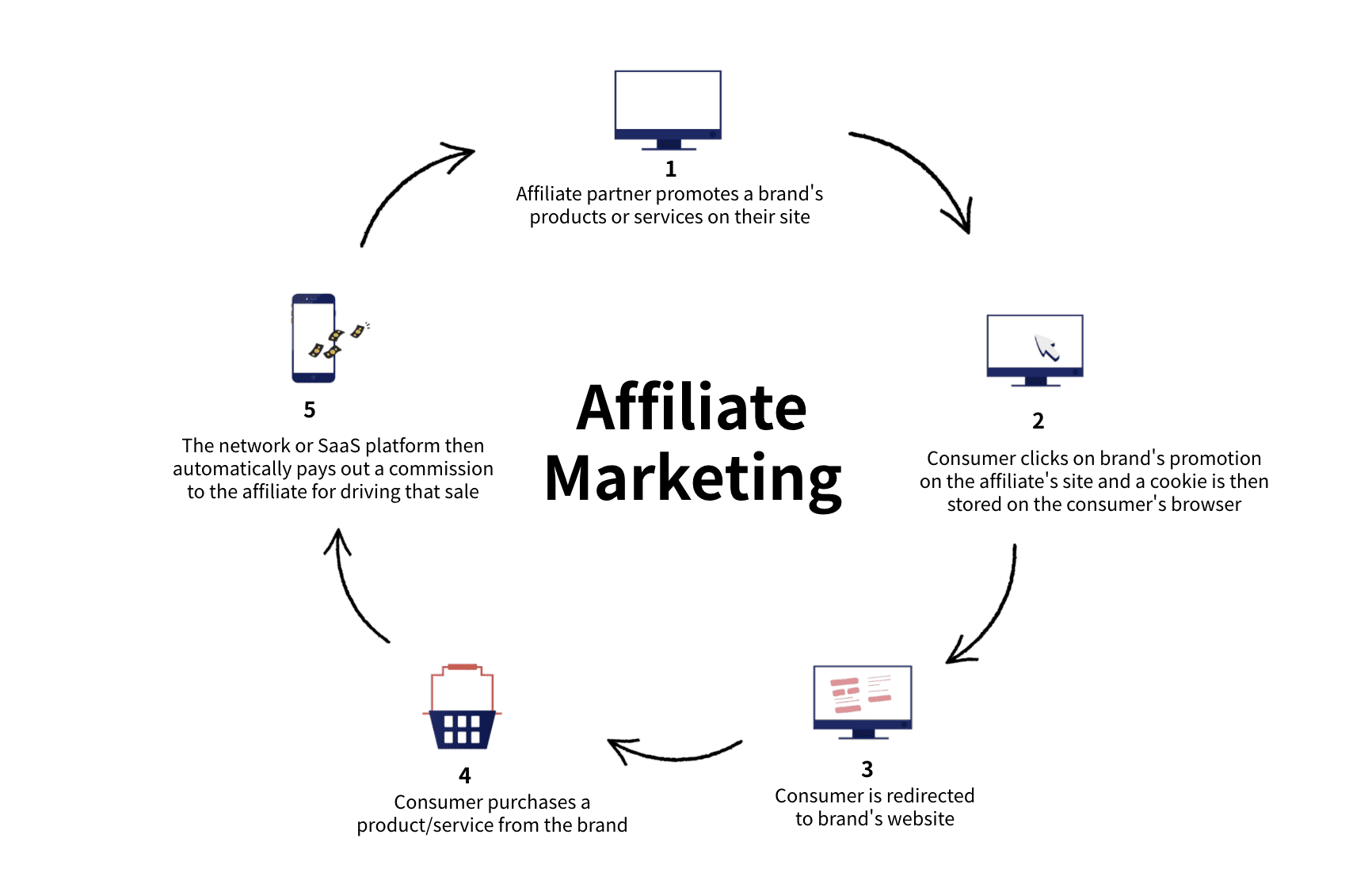 What makes affiliate program prominent is that it benefits all the involved parties. No matter which side you are on, you can benefit from it.
For advertisers
This method of marketing is significantly more cost-effective and less risky than traditional newspaper or television advertising. You only need to pay after a customer finishes the event – buying a product, making a subscription or installing an app – which means actual income for you.
For affiliates
This is undoubtedly the best way to monetize your traffic. You can easily get paid by linking your customers to advertisers without you having to sell the product yourself. The more effective your ads are, the more profit you'll share.
For customers
It is a convenient way for you to find products you might not find by yourself.
Not to mention affiliate networks, as it is exactly how they make their money – earning the difference as a third party between advertisers and affiliates.
Before starting an affiliate program, you should figure out what part you are in this e-commerce circle and then you can lay down further plans.
 1. If You are an Affiliate Marketer
Being an affiliate is as easy as pie, as long as you own a website, an app or even social media account. Once you get your own traffic and audiences, you can start to apply for some affiliate programs.
The most efficient way is to sign up for an affiliate network which is usually free to join with no experience required.
You only need to fill a signup form including web URL, content description, payment method, etc. Once approved, you will get special affiliate links that enable the networks to track your clicks and sales. Just join, promote with the unique links, and then you can get paid based on your performance.
Of course, you can also reach out to any company directly and ask for building an affiliate relationship. However, this method is less recommended as it's really a time-consuming task.
 2. If You Are a Merchant/ Advertiser
Likewise, there are two main options for business owners to enter into affiliate marketing. One is to start your own affiliate program from scratch, and the other is to join an existing affiliate network.
#1. Starting Your Own Affiliate Program
It means that you can get in touch with affiliates without any other 3rd parties, such as the Amazon associates program.
The pros of this method are obvious – lower cost and more controllable processes. There are no additional fees and cumbersome rules from any agency, you can start your own affiliate program as you wish.
For example, if you have an online shopping site and want to get more sales from different channels, you can build an in-house affiliate program to outreach a pool of affiliates. All things are up to you, including program rules, approval list, commission, etc.
However, the cons are obvious as well.
Getting your network and program convinced by experienced affiliates can be a daunting task, especially if your site is only an unknown small to medium size. Besides, it costs lot of time and money to maintain a tracking system and support your affiliates.
#2. Joining an Existing Affiliate Network
As mentioned above, it is the fastest and easiest method most merchants tend to choose, which can go a long way in helping them save time and earn more money.
First of all, since the affiliate network is all set up for you, you can reach a large number of affiliates with just a few simple clicks. There's no work to be done finding a great tracking platform, providing technical support, or even securing payments. It helps you to get rid of the heavy workload and save your time, money and energy significantly.
In addition, networks often work better for your business than your in-house programs. This is because they use affiliate performance software such as Offerslook – a recognized marketing platform – to increase revenue per side. You don't have to worry too much because they will work hard to improve the performance of your offers and make sure everything is up and running.
However, everything has double edges. Remember the advantages of the in-house programs mentioned above? That's exactly what affiliate networks lack.
Joining an affiliate network means that you have to pay (setup fee, deposit, commission, monthly minimum, etc) for this intermediary and lose control (rules for affiliates, choices of contents, terms and conditions) over the progress.
Conclusion
As you can see, starting an affiliate program is not a "set it and forget it" type of business. You have to be well prepared before setting up a new program.
Whether you want to become an affiliate or an advertiser, the first point you need to weigh is joining an existing network or creating your own affiliate program. And it all comes down to which you prefer: your time or your money. Just make your decision and jump into affiliate marketing now.
Also, if you are looking for performance marketing solutions or if you want to join some partner programs to get extra income, don't hesitate to join Offerslook's referral program and easily win up to $200 commissions.