Have you ever opened a website and come across a popping ad?
Have you ever seen a popping box when you open your mobile apps?
Have you ever clicked these ads and then bought something on a new product page?
This happens a lot when we surf the Internet and visit websites. And this kind of ad is called pop ad, one of the most common types of advertising as well as a commonly used form of affiliate marketing.
In addition to the several paid traffic sources and free traffic sources we mentioned before, this kind of pop traffic is proved to be an effective way for brands to engage audiences, generate leads and get more sales.
In this article, you will find everything you need to know about using pop ads in affiliate marketing.
Pop traffic is the easiest way to enter the affiliate marketing world.
It usually takes the form of pop ads that appear in a new Windows when users are browsing websites or using mobile apps. It refers to the traffic and visitors arriving at the destination page as a result of pop ads being triggered.
Pop ads is now regarded as a general term used to refer to pop-up ads and pop-ups ads. This brand new ad format was first created in the 1990s by Zuckerman, and has evolved many new variants over the next years to meet the marketers' needs – pop-up ads and pop-under ads.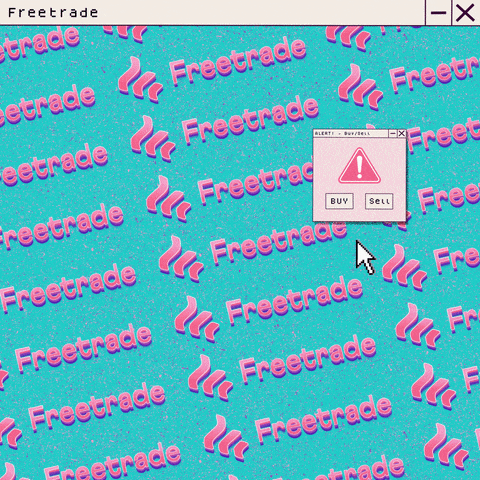 While pop-up and pop-under ads serve a similar purpose, the two types of ads do differ in many ways, including format, user experience, and etc.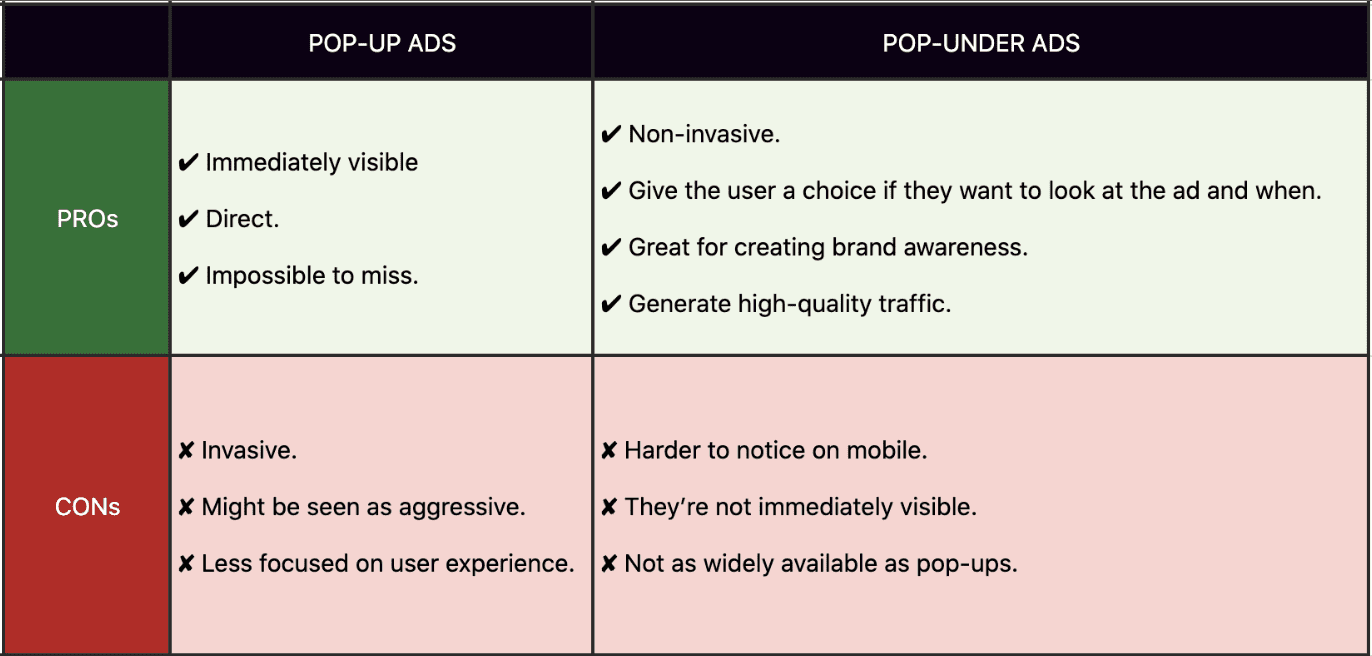 Pop-up ads is a popular ad format that appears on the top of the content users are viewing. These new browser windows or boxes usually open automatically and give special offers to prompt users to take a specific action.
This kind of ad is commonly used by affiliate marketers. As an alternative to native and banner ads, pop-up ads have been bringing incredible results for years. Now it still appears on many high-traffic websites as well as on mobile apps.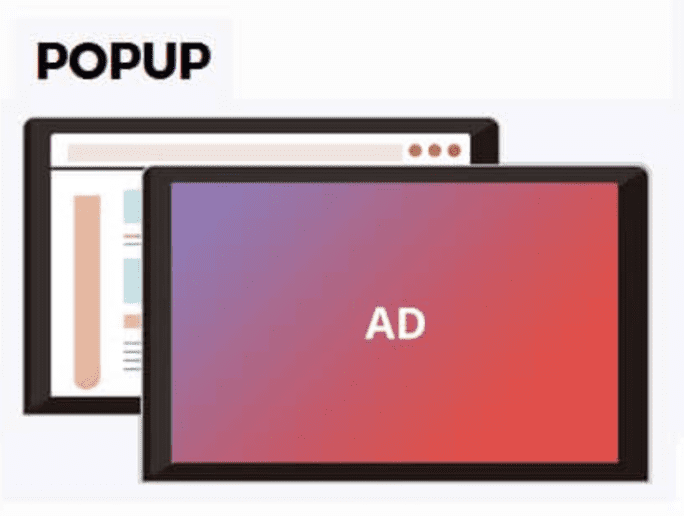 Pop-under ads appear as an independent page after users close the website they are looking at. These ads are often large in size so that affiliate marketers could show their engaging promotional offers with more details.
Unlike pop-up ads, which display at the top, pop-up ads are always shown behind the user's currently open window. As such, pop-unders are less intrusive and thus the user browsing experience is not interrupted.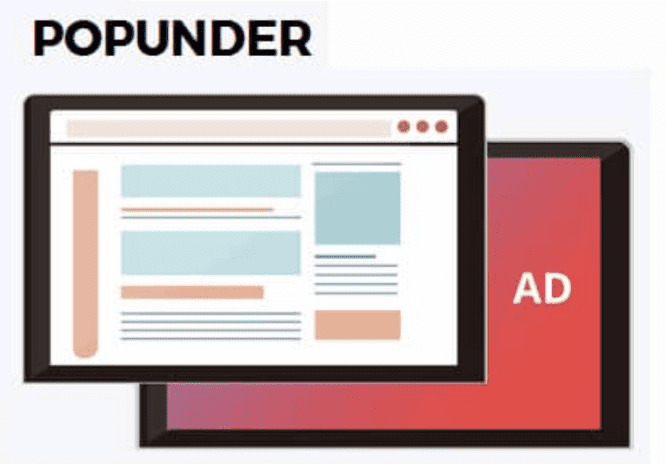 As you can see, both types of ads in affiliate marketing are designed to entice visitors to take further action, such as making a subscription or completing a purchase. Therefore some ad networks don't make a clear distinction between the two.
Although pop ads don't dominate online ads right now, they do play an important role in affiliate marketing and bring tons of benefits, no matter what type of ad you choose.
It is visible
Unlike banner ads and native ads that are usually blended into websites, pop ads automatically appear on their own tabs. Statistics show that click-through rates for pop ads are six times higher than banner ads.
It is cost-effective
For newcomers to the affiliate marketing world, pop traffic is the easiest and fastest way to get started. Pop ads are highly recommended for low-budget beginners as they are cheap but of high quality.
It is scalable
While pop traffic is the best choice for beginners, it is actually good for players experienced in affiliate marketing as well. This kind of ad can work with both low-payout and high-payout offers.
It has versatile usage
Pop ads can be designed to display depending on a user's activity. For example, the ads can pop up when a user tries to click on a specific area of the site, or when he opens a new web page, or when he is about to leave the site.
It delivers high CR & ROI
Pop advertising appears in a compelling way that engages and interacts with consumers to a large extent. This results in high click-through rates and a high return on investment for affiliate players.
Having said that, there are some drawbacks to pop traffic. First of all, pop ads are often perceived as spam that people tend to turn them off immediately. Besides, pop ads are less effective on mobile devices because mobile users generally don't like having multiple tabs open at the same time. Finally, one of the biggest disadvantages of pop ads is that most web browsers have taken steps to block them. That is also the reason why many sites no longer use pop ads.
Now that you have known the pros and cons of pop ads. There is no denying that popular traffic is good for affiliate marketing. Here are some useful tips for affiliates to increase conversions.
Pop ads should offer incentives to prompt customers to have further actions. The offers could be product discounts, free demo, ebooks, and etc.
Display an "X" or "no" button clearly, or allow people to click on the side of the pop-up window to close. Do not hide the exit option.
Pop content must be related to the content of the page the visitor is viewing. Otherwise the visitors will feel interrupted and disturbed.
Targeting options such as device targeting and GEO targeting are important factors when optimizing your pop ad campaigns. Try it, test it, and then optimize it.
Do not limit yourself to only one advertiser or one affiliate network. Get access to more networks, compare commissions and find the best pop ads network that will bring you untold profits.
The pop ads are usually working on CPM model. While most advertisers and affiliate networks support CPA or CPI rather than CPM, affiliate marketing platform that allows CPM scheme can be a good solution for them, like Offerslook for example.

 
Pop traffic could generate higher conversion than other types of ads due to its unique format. That's why it is so popular in affiliate marketing.
We hope that this guide will give you the knowledge and inspiration to develop your next pop ad campaign.
With all the key tips and tricks we list above in mind, pour your time and effort to optimize the pop ads, and finally you can reap a good result.
Also, if you are looking for performance marketing solutions or if you want to join some partner programs to get extra income, don't hesitate to join Offerslook's referral program and easily win up to $200 commissions.