Everyone knows YouTube. People tend to spend endless hours watching all kinds of videos on YouTube, such as Product reviews videos, Gaming videos, or Vlogs. However, have you ever thought about making money on YouTube?
It should be no surprise that YouTube is one of the most popular marketing places where a diverse range of marketers scramble for. There are several effective ways for them to make a profit from YouTube: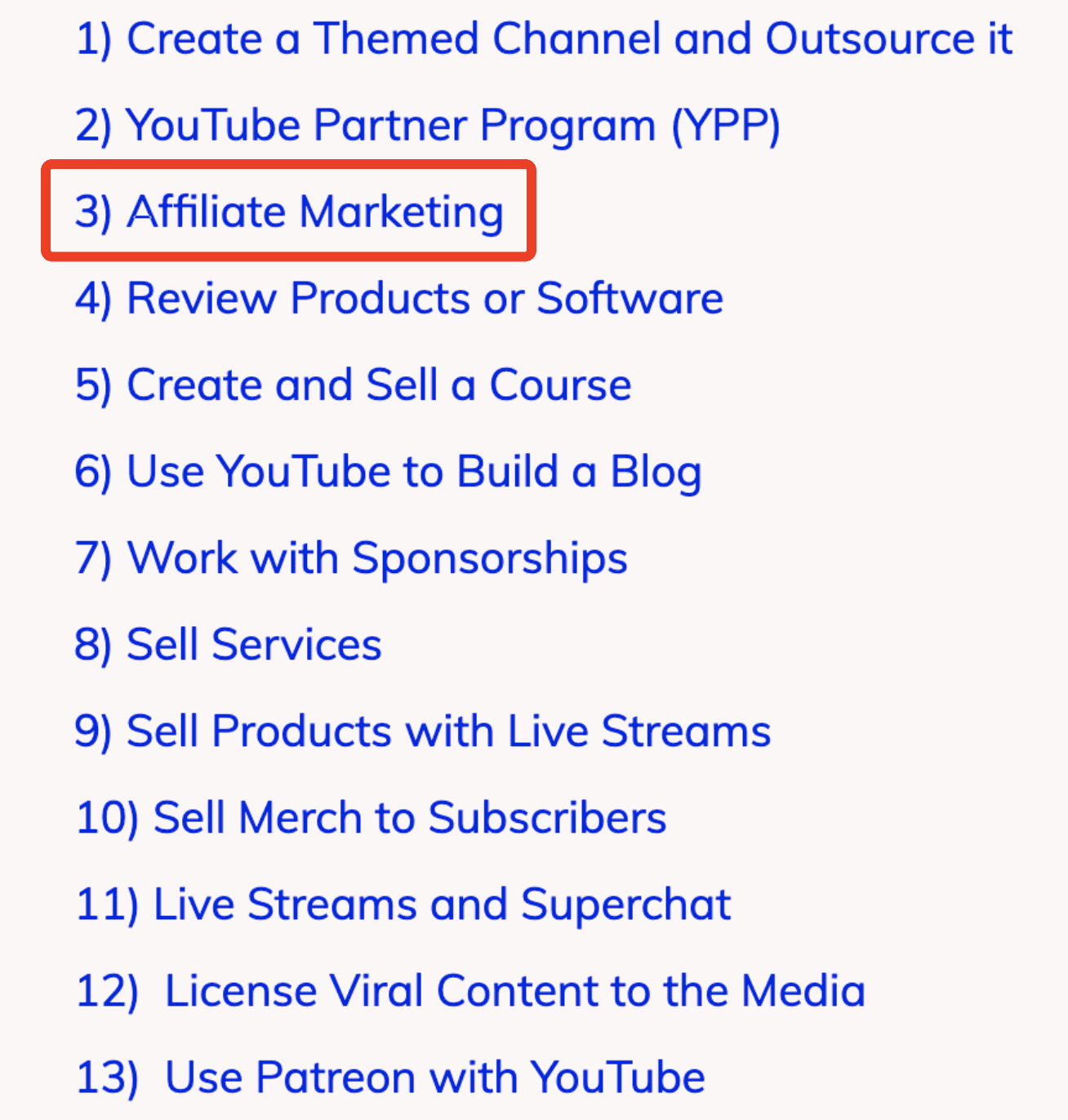 Today, we'll focus on the most easy-to-start one of the above options – monetize the video views and engagement with YouTube affiliate marketing.
Ready to jumpstart your earning potential on YouTube? Let's dive in!
In a nutshell, affiliate marketing refers to promoting other's products or services with your content in exchange for a commission.
YouTube affiliate marketing, so to speak, means doing affiliate marketing on YouTube.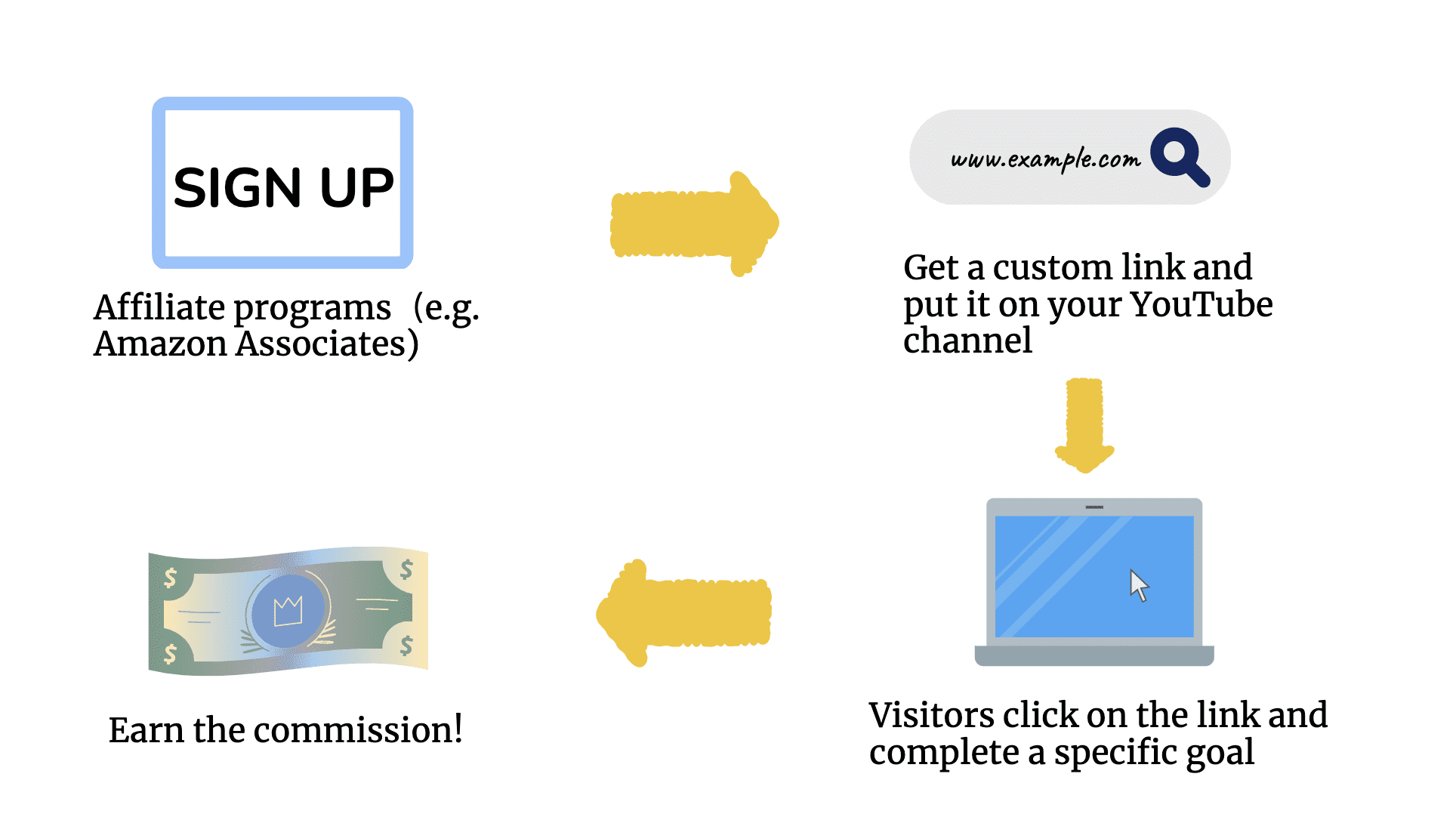 Thinking back, have you ever watched some videos on YouTube and then purchased the recommended items? That's where YouTube affiliate marketing works out.
It is a massive earning opportunity for YouTubers to promote affiliate links. For example, if you recommend a product on your video and a viewer buys it through your link, then you are going to earn commissions.
Before we go to discuss YouTube affiliate marketing, you'd better have an overview of the relationship between social media and affiliate marketing. Among so many social media platforms, YouTube stands out with the following features:
As the second largest search engine, YouTube boasts a huge user base covering the whole spectrum of ages and types of people. Affiliate marketers involved in every field could find their target audience on this hot streaming platform.
Meet user's consumption habits
It is said that 62% of consumers watch product review videos before making a purchase and customers are 52% more likely to purchase a product featured in a YouTube product review. 
Allow and support affiliate campaigns
YouTube is definitely more friendly to affiliate marketers than other social channels that don't allow affiliate links (like Instagram) because it welcomes affiliate links. Besides, YouTube even has its own Partner Program.
Review videos, including unboxing videos, are the #1 most watched type on YouTube where YouTubers test out an item and give their personal feedback, assessment or critique towards it.
There are 2 main types of product review videos. The first way is to focus on a particular product or service, tell the audience all about the features, and explain why you like or dislike it. Another way is to make a product comparison video showing the difference between kinds of alternatives as well as the pros and cons of each item.
Make sure your reviews are honest and thorough, thus people will more likely to make a purchase with your affiliate link.
How-to videos, also know as tutorial videos, provide step-to-step details to walk the audience through a product a service. These instructional videos are designed to show how to do a specific task.
For a product, YouTubers tend to show how to assemble and use it, while for a service, they tend to showcase its functionality and how to use it in detail.
Since people see you using different products or services in your video, it is easy for you to insert affiliate links to the things you used in the video.
This kind of video is best for YouTube influencers who are experts in a certain field and are trusted by their fans. They usually share their favorite products and services, as lots of subscribers solicit their opinions and advice before making a purchase,
For example, a food YouTuber might list his favorite restaurants, while a fashion vlogger might share her favorite outfits. These videos have become more and more trending amongst people who are searching for advice on which product to buy, what to wear, where to travel, etc.
Simply put the affiliate links of whatever you're promoting and help your viewers make buying decisions.
Starting affiliate marketing from scratch might sound daunting. No biggie! Here we list 3 steps for you to take it up quickly.
To begin with, the first step is to pick out your niche and then set up your YouTube channel.
Becoming a key point influencer in your niche is essential to make money with YouTube affiliate marketing. You'd better choose a niche that you are passionate about right from the start, in this case, you can continue to produce relevant, high-quality videos.
For instance, if you are a gadget geek, you can leverage your insight to review electronics. Or if you are a cooking enthusiast, you can share your recipe and showcase how to make a dish step by step.
Once you settle down your YouTube channel, you have to find a suitable affiliate program to get started with.
Affiliate programs are almost everywhere. You can go directly to those merchants who own in-house affiliate programs, or you can join an existing affiliate network to get more offer options, such as ShareASale.
On top of that, I would recommend choosing Amazon Associates as your stepping-stone, as it is the easiest way to take part in affiliate marketing.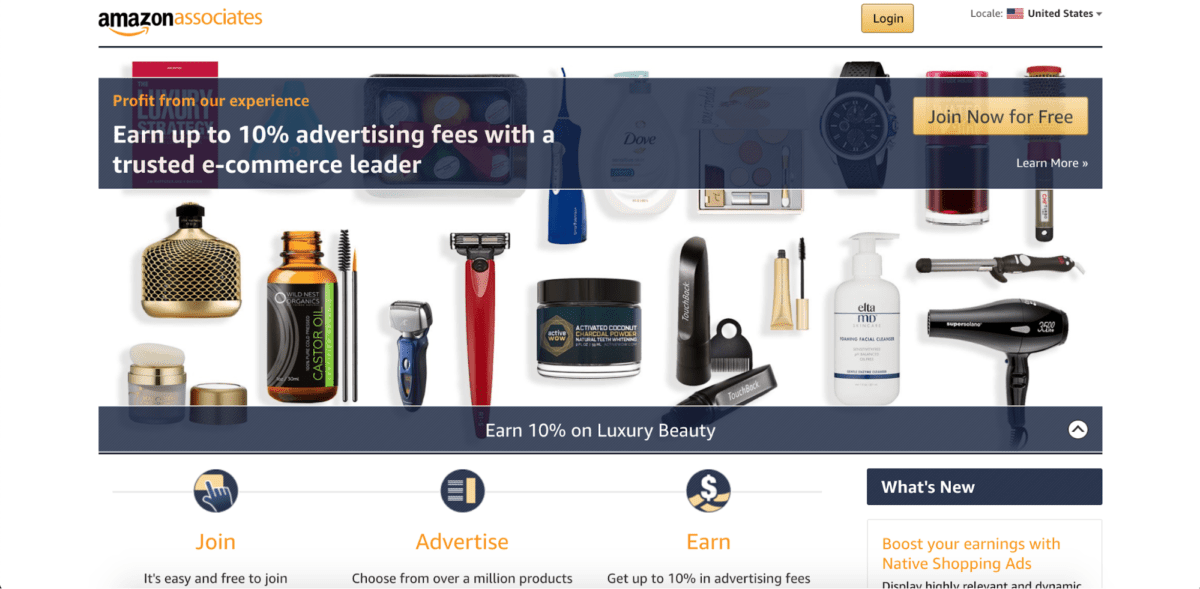 Last but not least, you have to put the affiliate links into your YouTube channel.
The most common way is to add the links to the description below the video. In your videos, you can remind viewers to look at the description from time to time and funnel them to the destination page.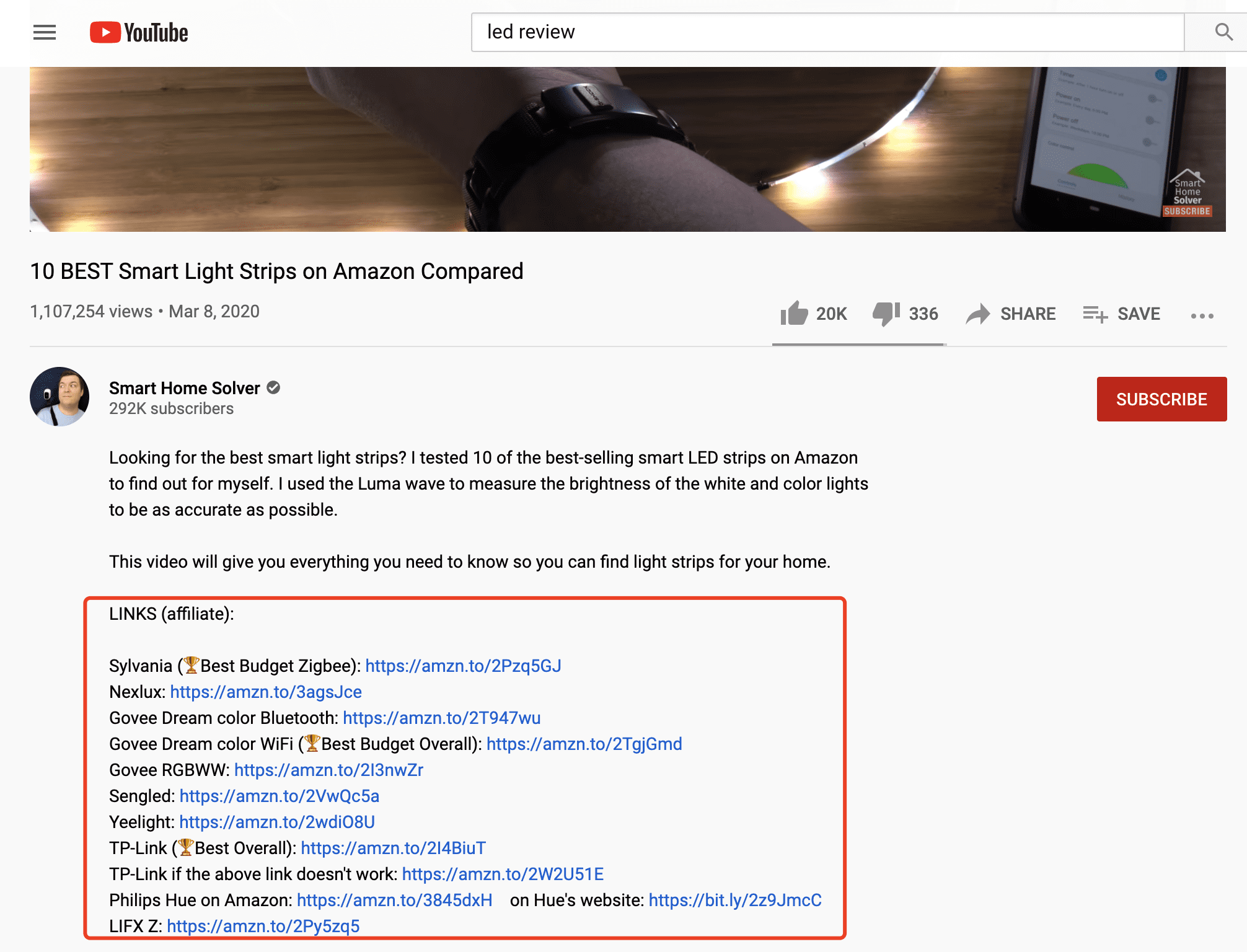 Another way is to include your affiliate link to YouTube cards. They usually appear in the top right corner of the YouTube video player. You can set this kind of eye-catching notification to pop up at just the right moment.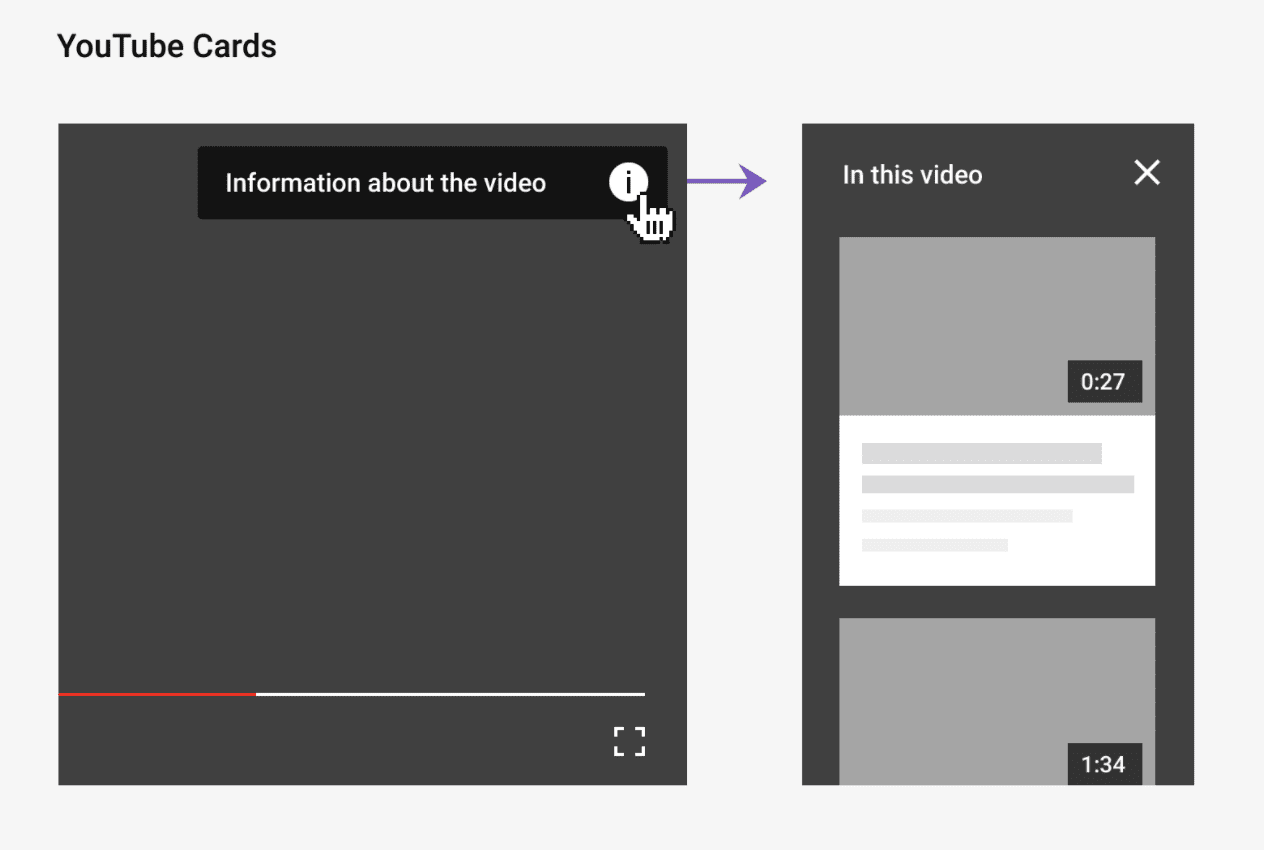 We all know content is the key to success. As an affiliate marketer, you have to remember that video views are never your ultimate goal, guiding viewers to make a conversion is.
There are 5 practical tips to maximize your earnings from YouTube affiliate marketing:
Picking up a profitable offer is an essential step, involving some basic knowledge such as EPC marketing. Another key point is to make sure your offer is in line with your niche where you can target as many as potential customers.
If you are going to recommend something on your video, don't let it be pushy or weird. Authenticity is everything. Your videos should focus on helping the audience find what they are looking for in an honest way.
Adding affiliate links alone is not enough. You have to verbally let your audience know that they can check things out in your description or YouTube card, otherwise they might never know it exists.
Once you put affiliate links, you'd better disclose that you have an affiliate relationship with the merchants. Actually it is required by FTC (Federal Trade Commission). For example, you can put the following disclaimer in the description.

You have to take time to optimize your videos with good titles, tags and descriptions and show them on other social media platforms such as Facebook and Twitter. Because it does no good for affiliate marketing if you can not reach more people.
Now you have got all the information about how to make money with YouTube affiliate marketing.
Getting a large following and audience on YouTube can be challenging, but you can still make a lot of money, even though you don't have enough followers – if you employ some excellent marketing strategies like the ones listed above.
Also, if you are looking for performance marketing solutions or if you want to join some partner programs to get extra income, don't hesitate to join Offerslook's referral program and easily win up to $200 in commissions.