As an ad manager working in an affiliate network, it must be a daily routine for you to test the tracking link, check if the traffic from affiliates is misdirected, and thus adjust it in time.
The biggest problem is that the testing process is really tedious and time-consuming. That is because, most of the performance marketing platforms used by affiliate networks are not equipped with testing tools. You have to test the tracking link by manually putting it in your browser, or you can search for other third-party tools which are usually very expensive.
After trying so many third-party testing tools, Offerslook has picked the most useful and cost-efficient platform for you – LinkinTest – an advanced verification tool mainly for CPI Campaigns.
The good news is, Offerslook has built a partnership with LinkinTest, so our existing users have access to this tool in their own Offerslook dashboard.
Keep reading to get a step-to-step guide now.
LinkinTest is a third-party testing tool for affiliate networks to check if the traffic is sent correctly. It can simulate the process after a user clicks on an affiliate link as well as record the redirect path.
It is designed to help you make sure your CPI campaigns are converted correctly and identify the affiliates involved in the redirecting chain.
With LinkinTest, you don't need to waste a lot of time on detecting every link in case your offer is broken or never converted.
Step 1: Go to LinkinTest official website(http://www.linkintest.com/), choose a plan to start with, and fill in the required form.
Step 2: The support team will contact you within 24 hours and provide an account and initial password for you to log in.
Step 3: After logging into the system(http://partner.linkintest.com/index.php), you can fund your account via PayPal, credit card, etc.
As we said above, there are two different ways to start your testing.
1. Log in to the LinkinTest system, enter the Test Mode page, and fill in the required info.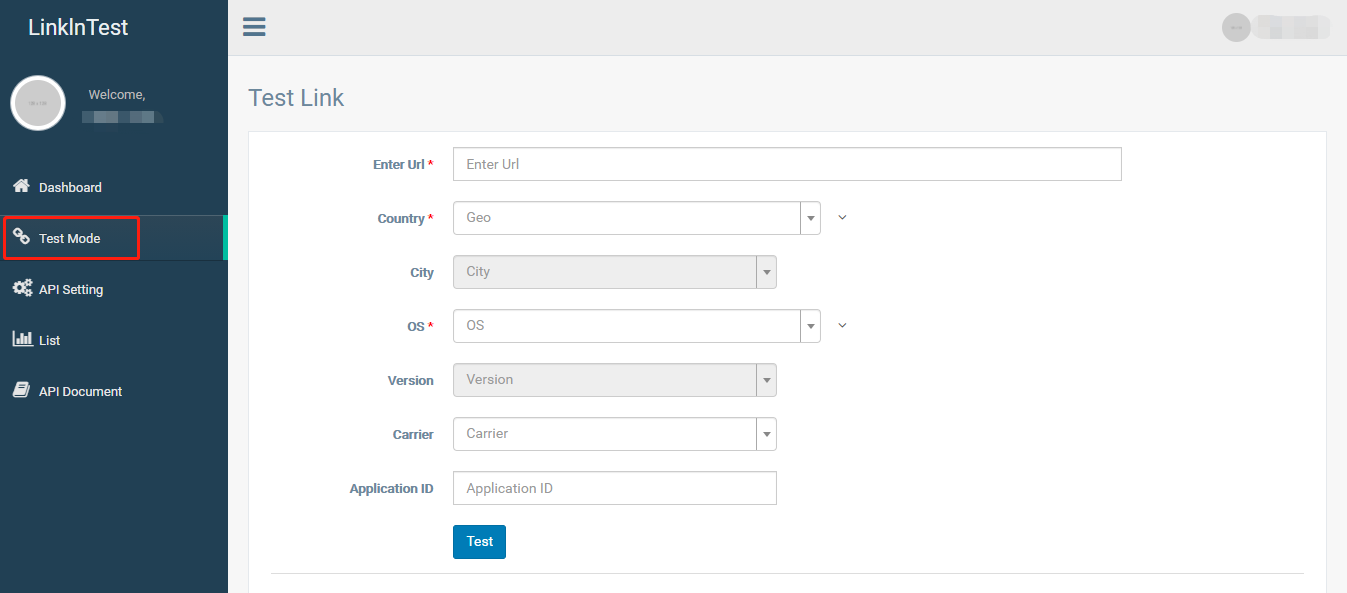 2. Click the 'Test' button, and see the result at the bottom of the page.

3. Check the results and see what's wrong with the redirection progress.
Two testing results:
Active: it means your traffic is sent correctly
Pause: it means your traffic is misleaded
Status code meanings:
200: success
3xx: redirection
4xx: client errors
If you have already used Offerslook platform, you can simply start your testing journey in your own Offerslook dashboard.
1.  Configure the API info
Log into LinkinTest system and copy the API KEY on the API Setting page.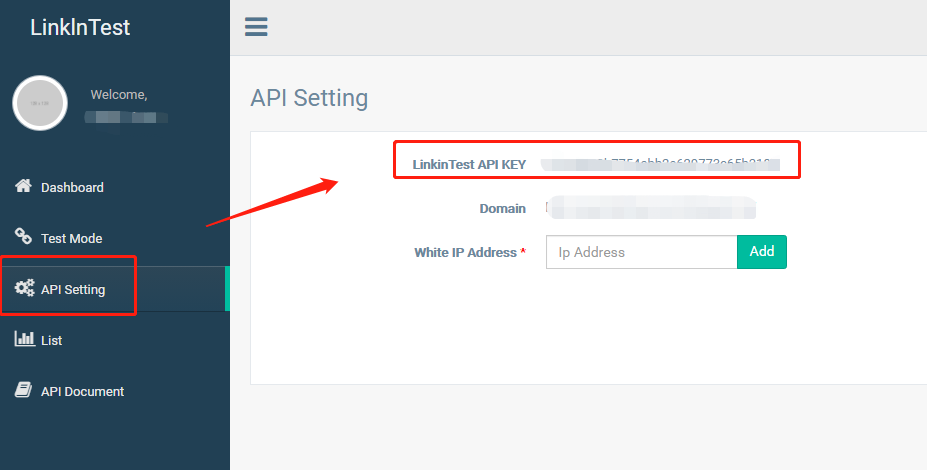 Then log into Offerslook system, go to Tools > LinkinTest > API Setting.

Fill in the API information you just copied.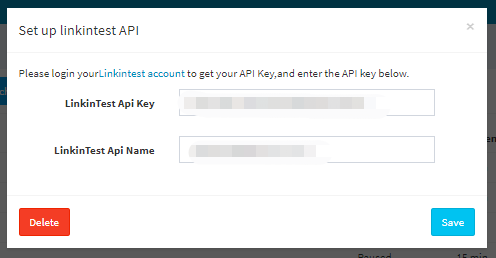 2. Create a new testing task
Click the 'Create' button.

Fill in the info and choose a testing frequency.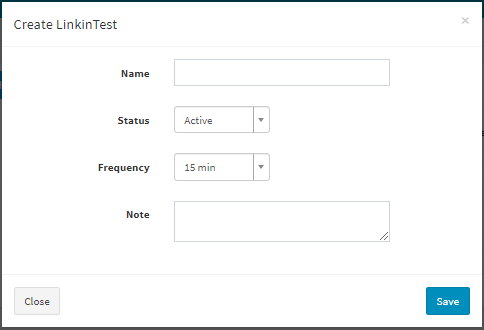 3. Add your offers to the task
Click a task name and go to the detailed page

You can choose to add a group of offers or a singer offer.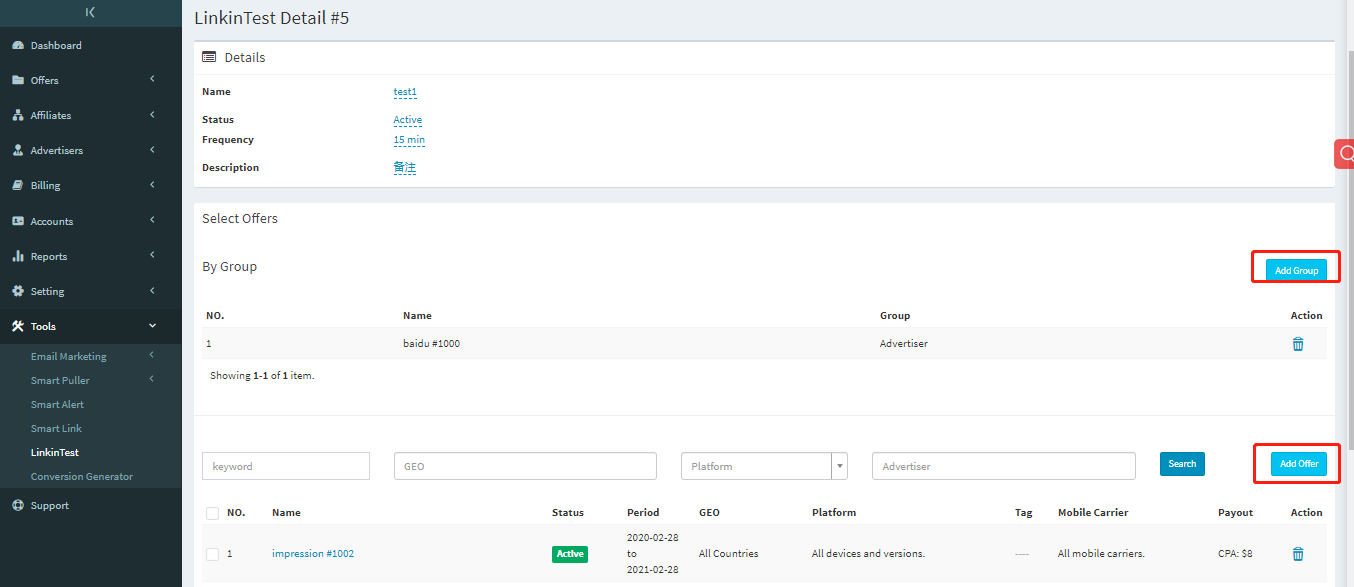 Choose a group or an offer you'd like to test.

4. Test single offer
Check the offer list page, click the testing icon of the single offer you want to choose, and then you can see the testing results in a pop-up window.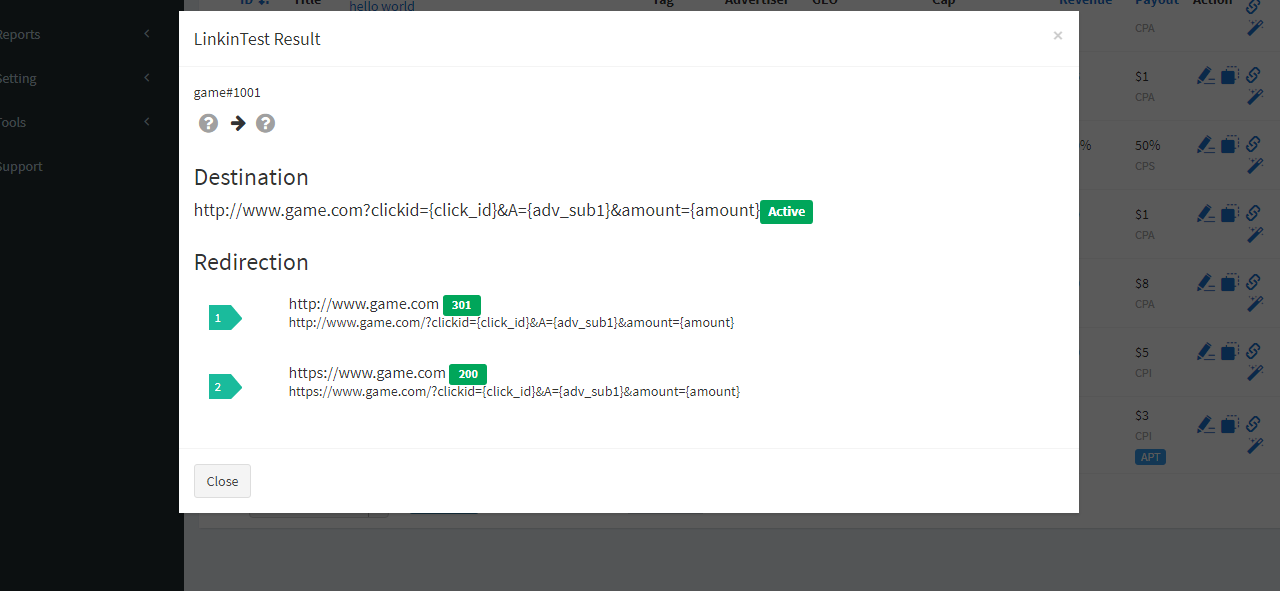 Or you can go to the offer details page and click the detect icon in the upper right corner, and then you can see the testing result in the lower right corner.


5. Test multiple offers simultaneously
Select multiple offers on the offer list page, and then select the LinkinTest option.
Then You can check the test results on the pop-up window: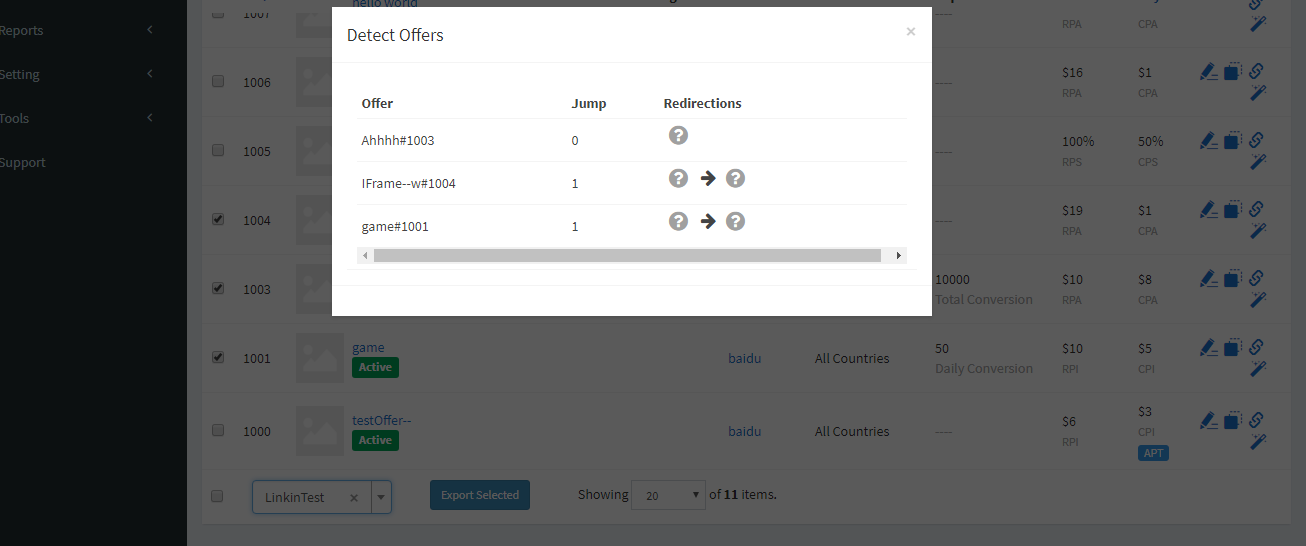 The key charging standard LinkinTest uses is credits. Here is a list showing the number of credits for each plan.

For your better understanding, here we offer you the rules of credits:
Fields marked with a red * are required, and other fields are optional.
There are three different ways for you to add credit to your account, PayPal, bank transfer, and credit card.
First click the 'Add Credit' button and choose a plan.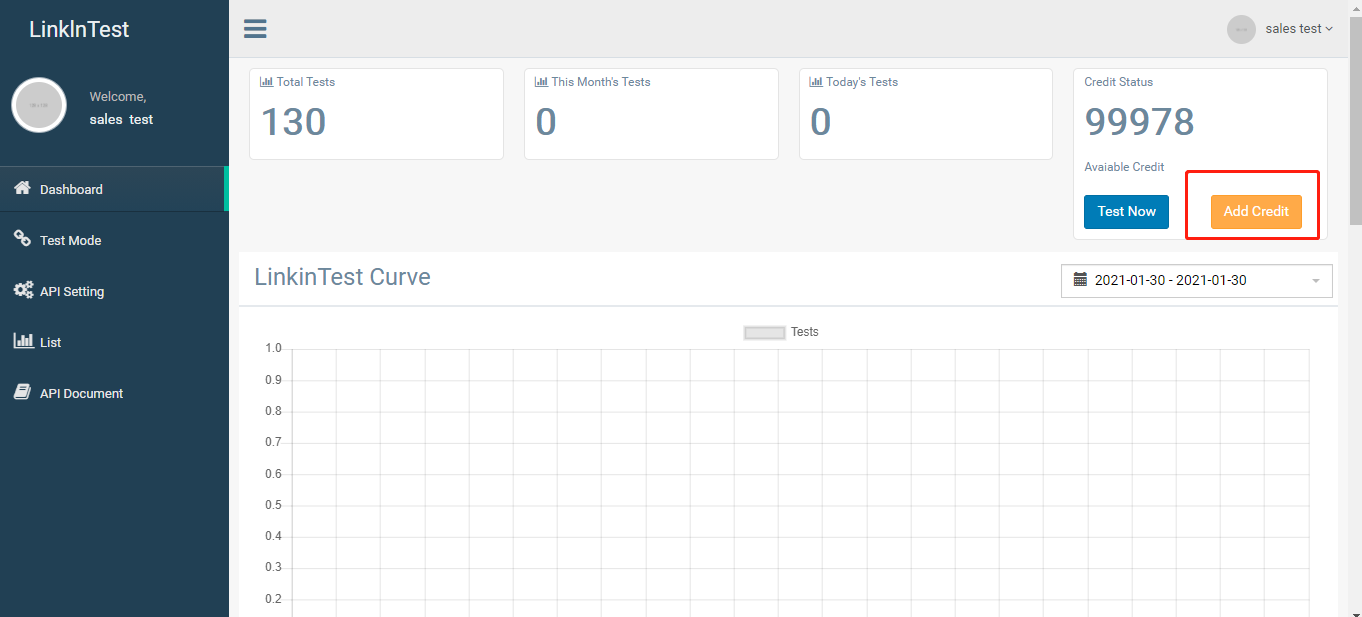 Finish the payment by PayPal, bank transfer or credit card.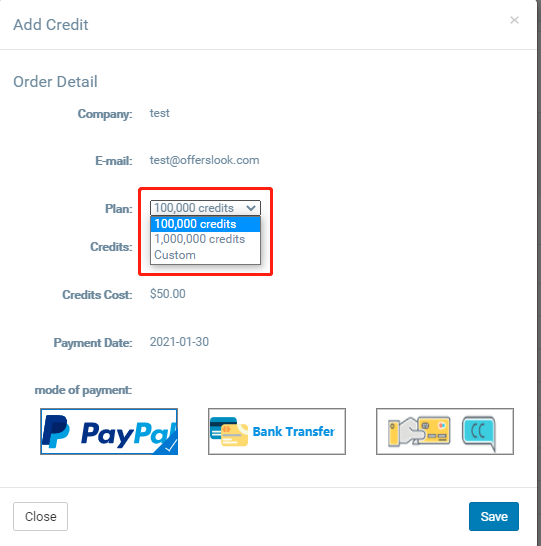 You can check the transaction records on the Invoice page.

Designed to optimize your testing workflow, LinkinTest could not only help you improve efficiency but also save a lot of testing costs.
Don't hesitate to sign up to Offerslook marketing system while leveraging the advanced testing tool. Every new user has access to test up to 100,000 offers for the first time with a $50 recharge.
Any questions, you can directly contact support@linkintest.com.