For digital marketers, it goes without saying that ROI (return on investment) is hugely important. Take online advertising as an example, it is a must to test, tweak and optimize the ad campaign once you have poured dollars into it.
However, it's difficult to always keep a high ROI to cover your marketing efforts and costs. So what if spend your money only on real business conversions instead of focusing your digital spend on awareness metrics such as impressions and clicks?
This is where CPA marketing comes into play, which can be the most scalable and effective way to monetize your traffic potential.
In this post, we will walk you through the following parts:
CPA marketing, short for Cost Per Action marketing, is an affiliate marketing model where the affiliates get compensation for each time their visitors complete a predefined action. These actions can be various, such as making a purchase, watching a video, filling a form, etc.
Aside from CPA, there are other popular affiliate marketing models such as CPM (Cost Per Mille), CPI (Cost Per Installation), CPL (Cost Per Lead), CPC (Cost Per Click), etc.
Making money with CPA marketing is feasible if you choose the right CPA marketing program. Different CPA networks vary in CPA programs, actions, niches, etc. You have to choose a CPA network that fits your audience and is relevant to your business, otherwise you will be rejected or get extremely low conversion rates.
Here are some of the most popular and profitable niches for CPA marketing: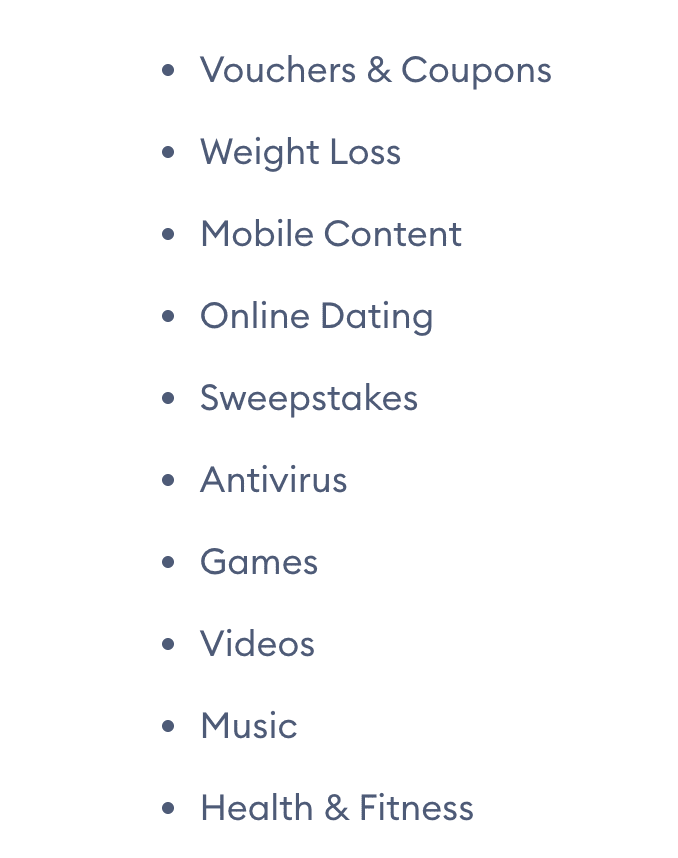 If you have started affiliate marketing, then you must be no stranger to the way the CPA model works.
There are four parties involved:
Advertiser: The business, merchant or brand that owns products or services and pay for marketing campaigns.
Affiliate: The publisher or influencer that makes a commission by promoting the advertiser's products or services.
CPA network: The intermediary party that connects advertisers and affiliates and deals with the tracking, optimization and commission process.
Customer: The one who completes the predefined actions.
Let's imagine you're a beauty blogger with a huge fan base, and it just so happens that a cosmetic brand wants someone to promote their products.
A CPA network serves as an intermediary to bring you and the brand together.
You can turn to the CPA network to find companies that want to pay you to promote their products and generate real leads. On the other hand, the companies can boost their business with the traffic you bring to them.
See? It is a win-win result for each party.
READ ALSO:
30 Basic Affiliate Marketing Terms You Need to Know
Everything to Know Before Starting an Affiliate Program
With so many courses of CPA marketing training online, it's necessary to identify and pick a good-quality one. Here are the top 10 of the best CPA marketing training and each is attached with real customer reviews.

" Coursera's rigorous assignments and a broad range of subjects encourage me to keep up with my courses. The quality of the teachers keeps me coming back. "

" A course of great value and I was happy to have chosen this course which brought me precious added value to move forward in my business. "

" Really great at explaining affiliate marketing to newbies and providing guides and resources to accompany the information on the lecture videos. You can check out all these accompanying resources at your leisure to learn more. Great clear narration with step-by-step demos as well. "

" This is an awesome course, especially for newbies to CPA marketing. It covers everything you need to know in order to have success promoting CPA offers, including those steps left out of most courses e.g. tracking, split testing, and etc. "

" This is an excellent course because it gives you step-by-step, all of the information you need to know to make money online with CPA marketing successfully. This course is taught by a very calm, confident, and enthusiastic instructor who knows what he is talking about. "

" This course offered a solid introduction into affiliate marketing and a strong "how-to" for crafting a sales letter. Would recommend it to anyone seeking to sell their product online. "

" This course is well done and very informative, but it is dated. Most information is close to 10 years old now. I think it's time for a refresh. "
Now that you have known all the basics of CPA marketing, let's talk about some strategies to help you start your CPA marketing journey successfully.
You should be careful when choosing a CPA network and the product or service that you are going to promote. The first thing you should take into account is what your audience and followers like to see rather than how profitable the offer is. Choose the appropriate network and offer in your niche and promote only the one worth recommending.
Getting traffic as much as possible is the precondition if you want to get more conversions. Be it free traffic sources (SEO, email, etc) or paid traffic sources (Google Adwords, Facebook Ads, etc), you should use all the viable ways for your CPA marketing.
READ ALSO:
A Complete Guide to Using Social Media for Affiliate Marketing
How to Make Money with YouTube Affiliate Marketing in 2021
Affiliate Email Marketing: Best Way to Build Passive Income
Content is the king in the marketing world. No matter what you use, a blog or a social media channel, the most important thing is that you have to keep creating high-quality content to tab onto your audience and engage them to generate real business results for the advertiser.
As you can see, there are substantial CPA marketing training courses and marketing tips for you to launch your CPA campaigns.
Follow our blog and learn more about affiliate marketing strategies, industry insights, and other relevant topics.
Besides, if you are an affiliate network/ad network looking for advanced affiliate marketing software, or you are an affiliate marketer wanting to make more money, Offerslook's referral program is a good place to get started.